8 BENEFITS OF LISTENING TO MUSIC DURING YOUR CARDIO WORKOUT
Updated: Jun 28, 2020
CARDIO that word makes me cringe but adding music to the mix increases the benefits! Music can be used to regulate your mood, improve it and can be linked to better physical health! Well that is definitely where we come in! See below our benefits of doing your cardio workout to music!!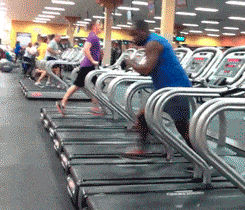 Takes your mind off of the hard work. It keeps us distracted from the task at hand and helps us get through the grueling workout that we have chosen to do that day

Makes you work harder. Put on some upbeat tracks and watch your mind push your body into overdrive as the music takes over!

Puts you in the zone. Focused much? You know all those distractions around you whether you are at home working out or at the gym, music can help tune them out and keep your eyes on the goal you have set for your current workout.

Keeps you at a continued pace. Working out to the pace in the song can help you keep your rhythm and breathing consistent. Be sure to pick a playlist that complements your chosen workout.

Elevates your mood YAAAY!! Music can evoke feel good emotions. Make sure it is a positive song that you love to groove to in the car or at the clubs (for you young people lol) or a powerful song with an amazing message.

Makes you want to move. There are songs that no matter how hard I try I just can't keep still. Its like the music has taken over and I have to subject myself to it's will. Find those songs and play them especially when you don't want to move!

It will take your workout to the next level. Want to have your own Rocky moment? Find your anthems that make you want to push yourself further than you could ever imagine.

In jump rope it will help your rhythm, coordination and timing. Songs with a consistent beat can help you count out your jumps and the turns of the rope. This will allow you more brain power to focus on what your muscles are doing, ensuring you have the proper jump rope technique.
Check out our favorite workout playlist
Click on the pictures below
Update:

Jump Rope Workout Tracks


Single Tracks :